Diverse Harmony:
the nation's first

queer-straight alliance youth chorus

Diverse Harmony is the nation's first queer-straight alliance youth chorus. Based in Seattle, Washington, our chorus presents music that opens the hearts and minds of communities and provides a safe environment for youth of diverse backgrounds to share their love of music and be accepted for who they are.

DONATE Open Letter to the Community (PDF download)

July 4, 2020

Dear Diverse Harmony Choristers and Family,

This has been an extremely emotional week for all of us. Our core mission is: "to serve as a safe space for our singers: youth age 13 to 22 who identify as queer, gay, lesbian, bisexual, transgender, questioning, asexual, or allied, among many others, where they can feel respected and accepted." The black community has lived for far too long in a society that does not provide safety or respect…

read more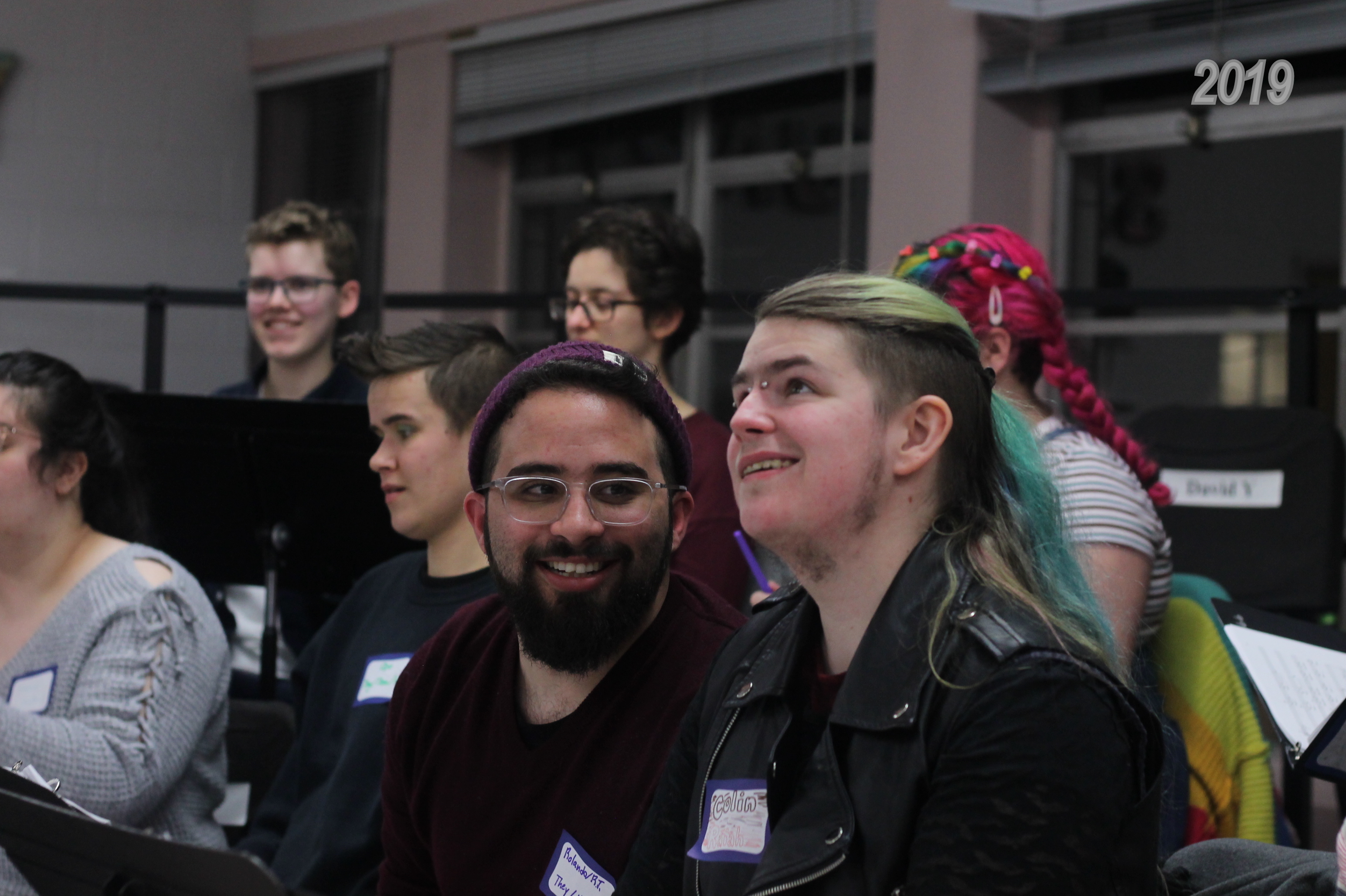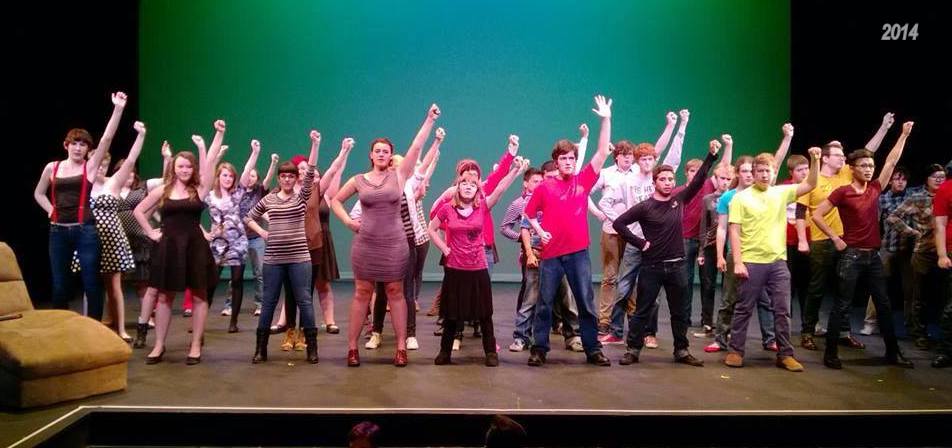 Our Story
Diverse Harmony was founded in Seattle in 2002 as the nation's first gay-straight alliance youth chorus. Over eighteen years we have seen the choir grow to nearly 60 members, and have brought performances to communities throughout Seattle in our regular two-concert season. The chorus has also performed tours to Denver, Chicago, Montreal, Miami, and Portland — with an upcoming trip to Minneapolis in July 2021.
Diverse Harmony is a member of GALA Choruses (the Gay and Lesbian Association of Choruses) and is considered a leading youth chorus among its ranks due to our longevity and large membership.
In tandem with our successful performances, Diverse Harmony serves as a safe space for our singers: youth age 13 to 22 who identify as queer, gay, lesbian, bisexual, transgender, questioning, asexual, or allied, among many others. Weekly rehearsals have become a home base for many of our youth where they can feel respected and accepted, and have fun making music together.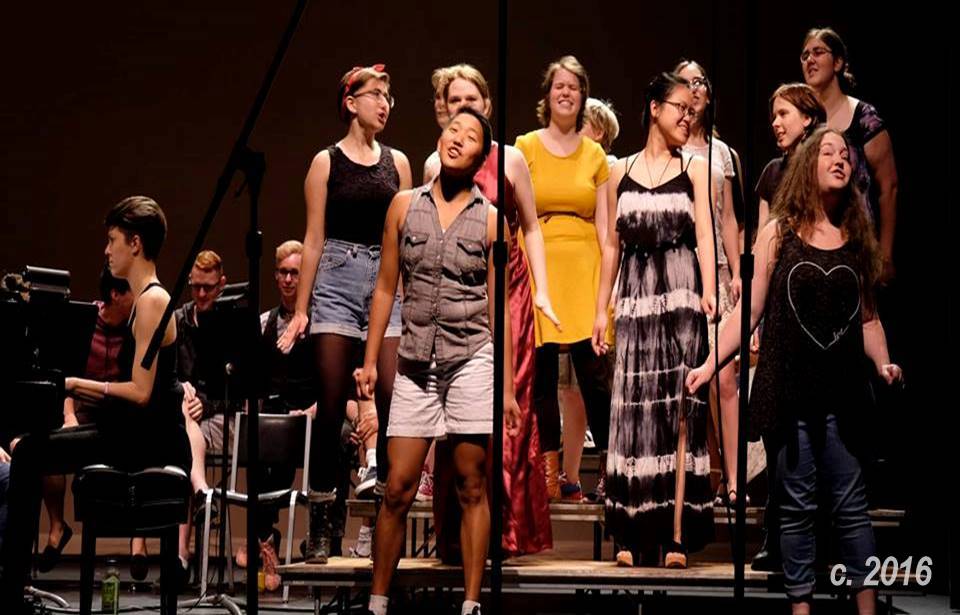 Since our founding, we have realized that the term gay-straight alliance does not encompass our entire chorus family. As of 2014, we are fully supporting our community by identifying as a queer-straight alliance youth chorus.
Queer is used as an umbrella term that supports gay, lesbian, bisexual, trans, asexual, queer, questioning, and other individuals that may not identify with other titles.
No tuition or membership fee is required of singers, and we accept all levels of musical ability.
Our Mission
• Our vision is a world in which differences are celebrated.

• Our mission is to create a safe, affirming environment where each person is accepted for who they are.

• Our common bond is the love of music and performance arts.

• We use our passion and the power of music to inspire all to celebrate the differences in our homes, communities and the world.

We believe that everyone should be loved for who they are and represented with the appropriate language and queer is the appropriate term for our Diverse Harmony family. For more information on the term queer, please visit PFLAG.
Contact Us
PFLAG
The Diverse Harmony
Choir
DH performs songs from a wide variety of genres — from contemporary pop to classical to Broadway — through which our members create themed shows or even stage musicals that we perform at the end of each season. Whether they came for the music, the friends, the community, or the snacks, DH choristers often leave their first rehearsal feeling like they have a new musical family to welcome them every Tuesday night.
JOIN US
The Diverse Harmony Ensemble
Spectrum
We are proud to have added a young adult ensemble to the Diverse Harmony family in 2016. Spectrum began as a 13 member group, having made a year-long commitment to perform and promote Diverse Harmony. Spectrum has evolved into a young adult ensemble welcoming new and alumni members ages 19-29 who are dedicated to musical excellence, recruitment, and mentorship on behalf of the Diverse Harmony youth chorus.
Join Us
Board of Directors
Meet the Diverse Harmony Board and Staff
Upcoming Shows
Check back soon, as more performances will be added!
Pictured above – Diverse Harmony travelled to Portland in 2013 to celebrate Pride and do outreach. We assisted in the creation of Portland's own queer youth chorus, which is called Bridging Voices.
Request a Performance
Postponed – TBD
Concert at Seattle First Baptist Church
---
June Concert
Time and loaction TBA
---
July 4th – 8th, 2020
GALA! Minneapolis. MN
---
Say Hello
There are no strangers here; only friends you haven't met yet.