10-2-2022
DH is going virtual!
We are so grateful for the love and support we've received this past fall / winter 2021-2022 season, while we held in-person events for the first time since 2020. Due to the complications of rebuilding the choir in the midst of the COVID-19 Omicron variant, we have decided that going virtual to begin our upcoming season will best fit both the safety needs of our community and singers, and the needs of our choir as we continue to rebuild. We may be seeing each other through a screen, but we will be bringing the same spirit, love of music, and joy that we know and love from in-person rehearsals!
We are more than thrilled for you to be a part of a community that fosters growth, friendship and support in an intentionally queer and joyful space. And we want to emphasize as well that we accept all ranges of vocal experience!
We have weekly rehearsals every Tuesday at 6:30-9:00 PM. Come with your New Member Form already submitted or just fill it out in person. And bring 10 friends! We are eager for you to become a part of our queer family!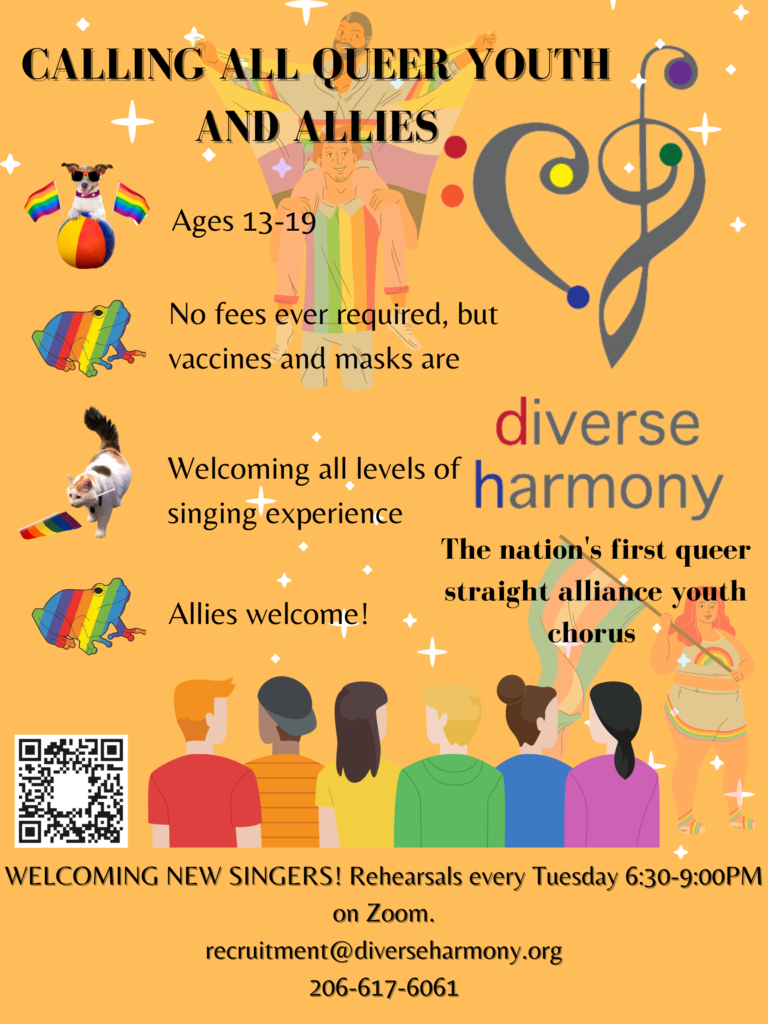 DH strives to be a safe, judgment-free space where everyone is accepted as exactly who they are, in various places in their own queerness. If you're interested in joining, please sign up for our email list
Diverse Harmony is a space where youth can build community and confidence and experience the healing power of singing in a supportive and lively environment. It's a space to make long-term friendships while exploring who you are, as exactly who you are. It's also a space to sing your heart out and have a blast doing it! DH is for anyone ages 13-19, whether you're exploring what queerness may mean to you, you've identified as queer for years or you're an ally. All levels of vocal experience are welcome, no membership fees are ever required but vaccines and masks are. If getting a ride to rehearsals is an issue, reach out to us and we will facilitate carpools and find an option for you if there are carpools available.
DH has been on hiatus over the pandemic, but this fall we are kicking off in-person rehearsals again (vaccines and masks required) and we can't be more excited! The pandemic has been hard on us, but this is also an exciting time as it gives us an opportunity to reboot and give the community fresh excitement about who we are and what we do. We have strong community connections, history and support, and now all we need is you! We are thrilled for you to join us so that we can have the flourishing DH family we've had in the past.

If you're interested in joining, THE MOST IMPORTANT STEP is to sign up for our email list. This is how you will receive updates about rehearsals, events and anything else you need to know. Parents and guardians are strongly encouraged to sign up as well! You can sign up either by emailing us at recruitment@diverseharmony.org, or signing up yourself – singers here, and parents/guardians here.
You can find our New Member Form here, which is required prior to or on your first rehearsal date, all fields required unless specified. You may either prefill with Adobe and electronically sign, or scan and send to:
recruitment@diverseharmony.org
Please read our anti-harassment policy
Parent signature is required for folks under 18, and background check is required for folks 18 and over. There are no membership fees whatsoever! Once we receive your form, we will be in close contact with you about dates and moving forward into the season, and you will be all set to join! Yes, it's that simple.
If you have any questions and / or concerns big or small please do not hesitate to reach out via. email or the inbox on our website. We look forward to having a lively, healing, beautiful queer spring and summer with you!
Sign up for our newsletter we will add you to our mailing list only, unless you make a request.
Please email us directly if you have questions!